Rounds Galore!
Resources for Singing Rounds
(and GREAT Recordings & Books too!)
The Rounds Galore! Book & Rounds Galore CDs!
Web address:http://roundz.tripod.com
Rounds Galore
... and More!

Rounds Galore
... and More! Vol 2
... and Vol 3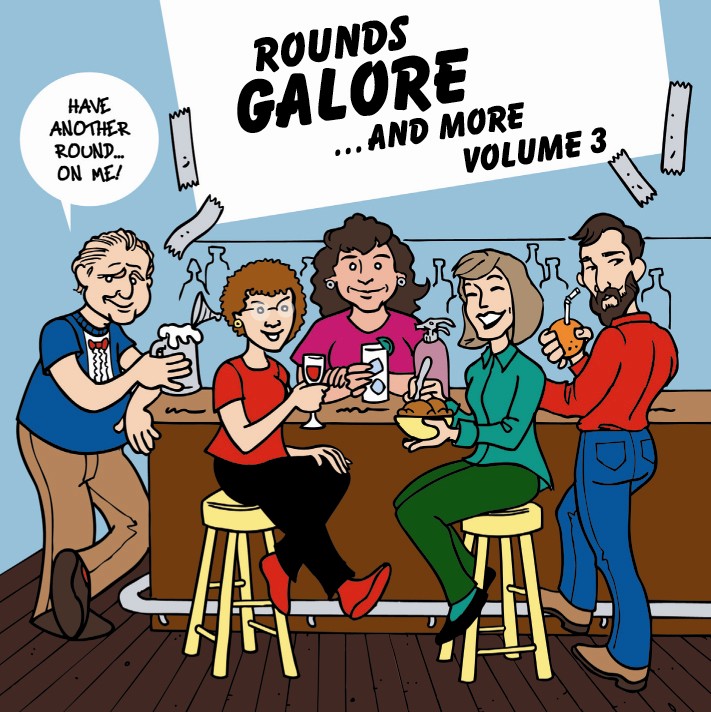 Teaching children Harmony? Teaching adults the Joy of Singing? Want something fun for a long trip with the kids? Looking for the perfect gift for a singer-friend? Rounds are the fastest way to get kids and adults singing in harmony! Maria von Trapp (of Sound of Music fame) said "[After homework] first we sang rounds. It is wonderful for schooling the ear. It leads quite naturally to polyphonic music. The rounds teach you to 'mind your own business'; sing your part, never to mind what your neighbor sings." Come see the most successful Rounds Book and CDs in history!
Following the success and popularity of Sol Weber's Rounds Galore! book, we've released three new albums that contain beautiful and exciting arrangements of many rounds, both new and old, silly and serious, amusing and fun! The rounds are by composers as varied as Mozart and Peter Schickele (known as his alter ego, PDQ Bach), 16th century rounds composer Michael Praetorius and 20th-21st century dance callers and choreographers John Krumm and Pat Shaw, political satirist and funny social commentator Tom Lehrer, and the best round created for a jingle, for Kellogg's Rice Krispies (OK, it's the only jingle in round form). These mostly a cappella albums (and associated books) are ideal for anyone interested in singing a cappella; school music programs, church or temple choirs; and teaching children to enjoy singing.
Album #1, with 32 rounds, contains two great Mozart rounds, several modern classics by John Krumm, a wonderful wordless song by the 17th century composer Caldara, a peaceful round from Surinam, a hilarious true story by Jan Harmon of an armadillo's rescue from a crocodile, a great Scat round by Daniel Paget, a funny comment on hectic modern times by Joanne Hammil, and more rounds by Peter Schickele, Michael Praetorius, Jan Harmon, Susan Kisslinger, Emily Fox, Robbie Wedeen, Elliot Z Levine, Jan Maier, John Hetland, Jean Ritchie, L Joyce Hitchcock, Pat Shaw, and the ever prolific A Nonymous.
Album #2 contains a new song by Tom Lehrer (his first in round/quodlibet form), the Kellogg's Rice Krispies round, a hilarious rewriting of the 19th century classic Hodu La Sultan (now called "Breathless" in humorous self-reference to its continuous onslaught of syllables), a great food parody of the Pachelbel canon, and more great rounds by John Krumm, Tom Chapin and John Forster, Pete Seeger's father (Charles), Issachar Miron (composer of Tzena Tzena), Porter Abbott (using words from Pogo), Sally Rogers, Lorraine Lee Hammond, Pat Shaw, Joanne Hammil, Jan Harmon, Alix Herrman, William Peek, Gilbert DeBenedetti, Thomas Ravenscroft, William Byrd, and yes, more by A Nonymous. It also contains a beautiful Victorian round rewritten to honor those killed in the September 11th attacks. 34 rounds in all.
Album #3, a SPECIAL DOUBLE album, features us singing with famous rounds composers, including John Krumm, Joanne Hammil, Jazz legend Bob Dorough (creater of Schoolhouse Rock, played with Miles Davis, Louie Armstrong, Count Basie, Spankie and our Gang), Joelle Adlerblum, John Hetland and others. Contains a fascinating bonus interview with Pete Seeger, explaining how his family always sang rounds, the rounds he popularized, and how the Weavers got their start. Albums have many traditional fun favorites and many new gems. 36 rounds plus that 20 min Pete Seeger interview.
All selections begin with the round sung unaccompanied, to aid learning it. That's followed by several delicious romps through each round, with full and rich harmonies. Each album has a full hour of rounds to sing along with or simply to relax and enjoy. Several of the selections are in "Rounds minus one" format, where one of the parts is left out. You interact with the recording - your voice provides the missing part!
CHRISTINE LAVIN says: "This is a record that a lot of people have been waiting for. What I love about this record is you can learn how to sing these songs. They sound so impressive once you learn them!"








The rounds on the CDs are our favorites, mostly drawn from Sol Weber's recently published rounds collection, Rounds Galore, and his Unofficial Set of Additional Rounds. You can buy the albums, the Rounds Galore book, or get both an album and the book at a package discount. The singers and rounds afficionados are Jan Maier, Evy Mayer, Murray and Randi Spiegel, and Sol Weber. Both Jan and Evy are accomplished entertainers on their own: Jan has two albums, "Mountain Skyes" and "Pickles & Puppies," and Evy has four, "Soup to Nuts," "Born to Shop," "Double Trouble - Live," and "Humor Me."





All books offered on this site contain full music notation for their rounds. The sample from Rounds Galore (above right) shows that each chapter has anocdotes about the rounds and their composers.



Album One

Audio samples
Scat Round

38 sec



- Delightful doo-wop syncopations from Daniel Paget

Scalloped Potatoes

35 sec



- Silly fun by Emily Fox

Waiter-Water

33 sec



-More fun for kids; Traditional (in Rounds-minus-one format)

Eurythmie

29 sec



- Swingle Singers touch to a classical piece by Antonio Caldara

Home is the Place

44 sec



-Thoughtful and beautiful round by L Joyce Hitchcock

The Road

42 sec



- Modern classic by John Krumm, featured on CNN show on rounds

Joy of my Heart

28 sec



-Beautiful new round, also by John Krumm

Kyrie

38 sec



- Harmonious chant from Suriname

Dona Nobis

64 sec



-Peter Schickele's haunting rendition ©1984 Peter Schickele

Windmills/Jubilate Deo

27 sec



- Gorgeous chant by Michael Praetorius [Only Jubilate Deo heard here]




Album Two

Audio samples
Kellogg'sTM Rice KrispiesTM

45 sec



- Famous jingle from 1960-1980's (Lots of fun to sing!)

Tachelbell ("TacoBell" Canon)

46 sec



- Hilarious parody of Pachelbel Canon

Selling Out

54 sec



- Quodlibet by political humorist Tom Lehrer

Alleluia

87 sec



- Beautiful round by Issachar Miron, composer of Tzena Tzena

Auf Wiedersehn

32 sec



- Fritz Werner wrote this while listening to a Cornell Glee Club concert

Lamb and Lion

22 sec



- Thoughts for peace by Lorraine Lee Hammond

New Years Round

41 sec



- Ring it in, Ring in the New Year!




Album Three

Audio samples
1358

58 sec



- Bob Dorough's masterpiece was sung by Spanky & Our Gang

The Chicken are into the Tomatoes

41 sec



- Great Fun! A classic spoken word round

The Chocaholics Confession (aka Chocoholic's Round)

66 sec



- Chocoholics Anonymous has never heard this one!

Swingin' Along

47 sec



- A classic partner song: the open road in the Fall

Dona Nobis

59 sec



- Perhaps the most famous round

Duct Tape Madrigal

48 sec



- A madrigal praising the many uses of Duct Tape!

Friends Come Around

52 sec



- Friends singing rounds ... what more can one ask of life?

Joy and Temperance

45 sec



- Popularized by Pete Seeger, a rap on the Doctor's nose

Kiwi Fruit

39 sec



- Tongue twister round describing Kiwi fruit

Samba Chill

48 sec



- Latin salsa set to a round






The book: Rounds Galore

A few words about the rounds book. It's simply the finest collection of rounds published in over a century. The product of over 10 years' work by probably the world's foremost rounds collector, it has 340 rounds, shown with full music notation, hints on leading them, how to listen to the other parts, and is sprinkled with stories about the composers and anecdotes behind the rounds. Sol acts as the country's clearinghouse for rounds and it shows! As Pete Seeger says: "The next best thing to being in a round session with Sol is to have a copy of his new book. Get it!"




An important note about pop-ups on this site: Because this is a freebie site, you will get pop-ups. Do NOT click on any popups that say your computer is slow, or infected, or malfunctioning. Just close the window and continue browsing our amazing collection of great music.




Thank you so much for your help. I can't thank you enough for taking such a personal interest.
I wish every vendor I dealt with were as dedicated as you.
— Cathy Montero, Choral director in FL


Ordering Information
Foreign addresses - see note under Item SS
Use Shopping Cart for Credit Card Purchases
No Paypal account needed Click HELP for order guidance
Use Pricing Worksheet to pay by check (Click here)

Item

Price

Description
Click the links below to see song lists and additional info
Credit Card
Purchases
No response?
Hit Reload
Shipping (US only!!)
Click here for International Orders

RG

$19.95

Rounds Galore book

$3.60

CD1

$15

Rounds Galore and More, Album #1 (CD)

$2.30

CD2

$15

Rounds Galore and More, Album #2 (CD)

$2.30

CD3

$25

Rounds Galore and More, Album #3 (DOUBLE CD)
Rounds composers sing with us; Pete Seeger interview
$2.30



Combo
Pricing


If buying any 2 above, click for $7 discount!
Refund check sent with order (not through Paypal)


Must click "special discount" button to register for refund check

UNOFF

$7

Unofficial set of 150 Additional Rounds
Great rounds not in the original RG Book
$2.00

JKRCP

$25

John Krumm's Rounds, Canons and Partner Songs
Composer of some of the most beloved rounds of all time. A compilation of rounds and partner songs from his 3 previous publications, plus 17 new pieces. Includes a brief discussion of music theory and a workshop on how to compose a great round.
$2.70

PIA

$24.95

Pass It Around: Rounds from the Soul of a World
A beautiful book of new and old rounds (including new words to old rounds), from an organization using singing to support the needy
$3.60

EZL

$1.50

18 Creative Rounds by Elliot Z Levine
Elliot is a founding member of the incredible a cappella group, The Western Wind
$1.00

MDM

$2

24 Moondog Madrigals
Moondog was a talented blind musician living on the streets of NYC
$1.00

NGSS

$3

Novice's Guide to Becoming a Better Sight Singer by Sol Weber
$1.00

SS

$1

Shipping Surcharge:
Foreign / Expedited orders


Do not use without contacting us first

Contact us first for shipping costs for International Orders and expedited shipping. Please read everything in the footnote.*









U.
S.

S
H
I
P
P
I
N
G

O
N
L
Y
!!!

* US orders typically sent USPS Media Mail to save you money. US orders usually received in 3-5 business days (Postal Service has delays during high-volume holiday times). If you have an address outside the US, or require quicker shipping, CONTACT US FIRST to discuss options (Priority Mail/UPS/FedEX). Tell us (1) what you plan to get and (2) what CITY you want it shipped to. We personally acknowledge all orders within 2 business days (unless on vacation). Check the email address you used for your order - if you don't receive an order acknowledgement, the order may have been lost (almost never happens), so please contact us immediately via the Contact us link above.
===========================================================================

Pay by Check

===========================================================================

Pricing worksheet
` Print this out & fill in by hand
Use item codes, cost and shipping prices from above
Item (Eg: CD2)

Quantity
Price
Shipping





$

$





$

$





$

$





$

$

If ordering combo:
- Book + CD
- or - CD1 + CD2

Then
take off
7 dollars!

($ -7)



Totals:



$

$


Click here to display printable page just with Pricing Worksheet


Legibly write "Ship To" info:
Name:


Address:



Telephone:
If you include your email, we'll notify when order ships.
Email will not be used for any other purpose.

Email:




| | |
| --- | --- |
| Grand Total including Shipping | $ |

All prices are in $US, for US destinations only. Contact us first for shipping costs to other countries.

Quantity discounts for retail stores, schools, etc and expedited shipping available - just ask!


Send check or money order payable to:
Murray Spiegel/Rounds
48 Roosevelt St
Roseland, NJ 07068

Send as a gift! Include a note with your order, and we'll send it along.

Get "Rounds Galore and More" today so you can begin singing in harmony tomorrow!
Email address: mspiegel {at sign here} appcomsci.com We personally acknowledge all orders within 2 business days (unless on vacation). If you don't receive an order acknowledgement, the order may have been lost (almost never happens), so please contact us immediately.



Web resources related to singing rounds